Current Service Specials:
- Mar-Free Tire Changes featuring dynamic spin balancing,
most tire changes start @ $35, half price install with the
purchase of 2 tires from Mitchell Motorsports

- Oil Changes featuring Amsoil, Respol, & Belray Oils
Full Synthetic Oil Changes start @ $99

- Mower & Lawn Equipment winterization services for $25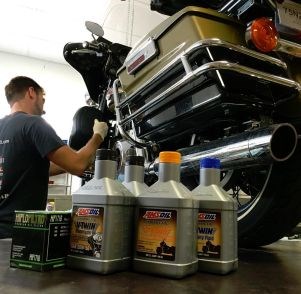 Schedule Service Appointment
Full Range of Services:
- Accessory Install: Let our factory trained technicians install your accessories purchased for a
guaranteed
fit.

- Chain/Sprocket Maintenance & Replacement: Your chain is the main component keeping your bike moving down the road. Maintenance is crucial to your chain and should be performed every 500 miles

-Hydraulic Brake & Clutch Flush: Brake and Clutch fluid cleanliness is crucial for long term health of these systems and should be flushed every 3 years or when moisture content becomes high.

-Full Service for Motorcycles, ATVs & UTVs: Each year to keep your machine functioning properly each manufacturer recommends a service that changes oils and other consumable items. Reference your owners manual or a Mitchell Motorsports Associate for your needs.

-Valve Adjustments: Is your machine hard to start or past 16,000 miles? Contact us about performing an engine valve adjustment.